Explore Luca Doncic's Impact on the NBA and His Journey to Stardom
In the fast-paced world of NBA basketball, few names have captured the hearts of fans and the attention of basketball aficionados quite like Luca Doncic. This young prodigy has taken the league by storm, leaving an indelible mark with his extraordinary Luca Doncic achievements. In this comprehensive article, we will delve into Luca Doncic's remarkable career, his awards and honors, his MVP history, career statistics, triple-doubles, his impact on the NBA, and his meteoric rise to stardom. Let's take a deep dive into the world of this basketball sensation.
Table of Contents
Luca Doncic's Achievements
Luca Doncic's achievements on the basketball court are nothing short of astounding. His ability to dominate various aspects of the game has solidified his status as a rising superstar. Here are some of his most notable accomplishments:
Rookie of the Year
Luca burst onto the NBA scene with a phenomenal rookie season in 2018-2019. His exceptional performance earned him the coveted Rookie of the Year award.
All-Star Selections
In just his second season, Luca Doncic was selected as an NBA All-Star, a testament to his rapid ascent in the league. He has continued to receive All-Star honors in subsequent seasons.
Triple-Double Machine
One of Luca's signature skills is his knack for recording triple-doubles. He consistently fills up the stat sheet with impressive numbers in points, rebounds, and assists, showcasing his well-rounded game.
MVP Candidacy
Luca Doncic's MVP history is a testament to his impact on the league. He has been a frontrunner in the MVP race, displaying his ability to carry his team and deliver clutch performances.
Luca Doncic's Impact on the NBA
Luca's impact on the NBA extends beyond his individual achievements. His style of play and charismatic presence have rejuvenated the Dallas Mavericks and garnered significant attention for the league itself. His influence can be seen in the following ways:
Global Fanbase
Luca Doncic has garnered a massive global fanbase, drawing basketball enthusiasts from all corners of the world to tune in and support the NBA.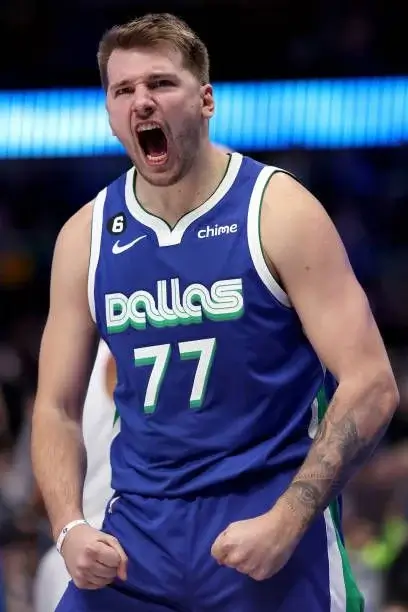 Highlight Reel Plays
His highlight-reel plays and buzzer-beating shots have become a regular occurrence, captivating fans and leaving them in awe of his basketball wizardry.
Inspirational Journey
Luca's journey from a young Slovenian prodigy to an NBA superstar is an inspiration to aspiring basketball players worldwide. His story serves as a testament to hard work, dedication, and a love for the game.
Luca Doncic's Rise to Stardom
Luca Doncic's rise to NBA stardom has been nothing short of spectacular. His journey is a story of talent, determination, and unwavering self-belief. Let's take a closer look at how he achieved this extraordinary status:
Early Beginnings
Luca's love for basketball began at a young age, honing his skills on the courts of Ljubljana. His dedication to the sport was evident even as a child.
Professional Debut
At the age of 16, Luca made his professional debut with Real Madrid in the EuroLeague, showcasing his ability to compete at the highest level of European basketball.
NBA Draft
The 2018 NBA Draft was a pivotal moment in Luca's career. He was selected by the Dallas Mavericks, marking the beginning of his NBA journey.
Rookie Sensation
Luca's rookie season in the NBA was nothing short of sensational. He dazzled fans with his exceptional ball-handling, court vision, and scoring ability.
Ongoing Success
As Luca Doncic continues to make waves in the NBA, his impact on the game and his team continues to grow. His future in the league looks incredibly promising.
Conclusion
In conclusion, Luca Doncic's journey from a young Slovenian basketball enthusiast to an NBA superstar is a testament to his talent, hard work, and unwavering dedication. His impact on the league, highlighted by his achievements and charismatic presence, has made him one of the most exciting players to watch. As Luca's career continues to evolve, basketball fans can look forward to witnessing the rise of a true NBA legend.
Frequently Ask Questions
What are Luca Doncic's most significant achievements in the NBA?
Luca Doncic's most significant achievements in the NBA include winning the Rookie of the Year award, multiple All-Star selections, and consistently recording triple-doubles.
Has Luca Doncic won an NBA MVP award?
While Luca Doncic has been a strong MVP candidate, he has not yet won the NBA MVP award as of now.
How did Luca Doncic's career in the NBA begin?
Luca Doncic's NBA career began when he was selected as the third overall pick by the Dallas Mavericks in the 2018 NBA Draft.
What makes Luca Doncic's playing style unique?
Luca Doncic's playing style is unique due to his exceptional ball-handling, court vision, and ability to impact multiple facets of the game.
How has Luca Doncic influenced the global popularity of the NBA?
Luca Doncic's global fanbase and captivating style of play have significantly contributed to the NBA's growing popularity worldwide.